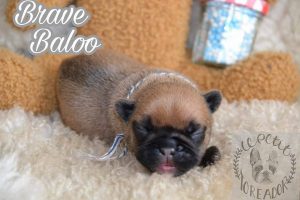 Zoals bij de meesten wel bekend is, z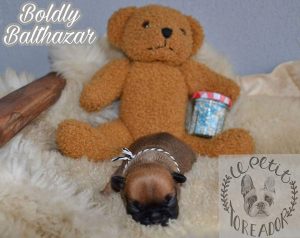 ijn de eerste 24 uur cruciaal. Als de pups die doorkomen is het goed. Helaas zijn de klappen van de zweep hard. Na een doodgeboren pup, hebben we nog een reutje moeten laten gaan. Ontzettend zuur. Ik zit er 24 uur bovenop en slaap naast de pups. Ik moest even 10 minuten weg, mijn man kwam inmiddels al thuis en die constateerde een dode pup. een van de kleinsten en de enige die ook was afgevallen. Of de moeder er ook nog bij op heeft gelegen dat weten we niet. We hebben nog gereanimeerd maar helaas. Zo is de nat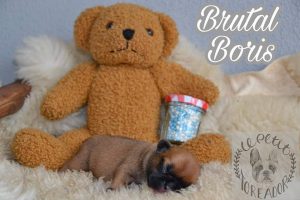 uur ook. Dit soort dingen vergeet je nooit meer, maar 5 gezonde pups is iets om super trots op te zijn. 4 reutjes en 1 teefje, allen red fawn.
Het teefje is reeds gereserveerd, Boris is reeds gereserveerd en er is een optie op Bruce. Ik ontvang pas kijkers na de leeftijd van 2 weken.
4 Males 1 female
Like most of us know, the first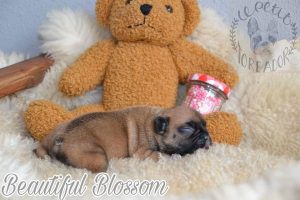 24 hours are crucial. If the pups make it through, than (almost) sure they will be okay. But unfortuanatly you need to know the ropes the hard way.
After an born dead puppy, we had to say goodbye to another puppy. Very painful. I'm close tot them 24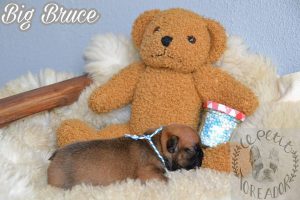 hours a day and needed to go out for 10 minutes. IN those minutes my husband arrived at home en found the dead puppy. We reanimated him without any luck. That's also nature, but you'll never forget. But 5 healthy puppy's is something we can be proud of. 4 males, 1 female all red fawn.

Female: reserved
Boris: reserved
Bruce: people have an option on Bruce
I will recieve viewers from the moment they reach the age of 2 weeks.