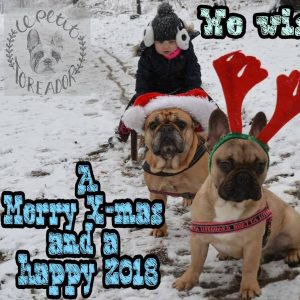 Allereerst wil ik iedereen een prachtige kerst wensen, we zitten er middenin.
Helaas geen sneeuw met kerst maar al wel sneeuwpret gehad!
We zaten de afgelopen weken in spanning te wachten tot Bailey zich eindelijk zou aankondigen. Nu ook het laatste pupje van nest B naar zijn nieuwe baasjes is vertrokken (België), vond Bailey het een mooi moment om haar loopsheid aan te kondigen.!
We houden het goed in de gaten en de verwachte dekking zal plaatsvinden rond oud & nieuw!
Als alles slaagt presenteren we haar partner en zullen we midden maart pups verwachten.
At first i would like to wish you all a great Christmas, we are in the middle of it now. Unfortuanatly no snow, with Christmas but we had our snowfun earlier this month,.
The last weeks we were waiting in suspense for Bailey tot announce her heat. Now also the last puppy of the B nest has left to his new owners (in Belgium), Bailey thought it was the right time to announce her heat.
So we keep an eye on it, and she will meet her male arround New Year's Eve.
If it all succeeds we will present her partner in crime en can we expect puppy's in the middle of march.