Eindelijk, dan nu het moment dat echt duidelijk is dat wij een reutje aan onze roedel mogen gaan toevoegen. Bulls of Crown 'Iron the Irresistible'.
Iron komt uit de uitgebreid geteste ouders:
Lanzilo van U-Chuan French Bull Dog Pro FCI (import Taiwan) (rood)
X Bulls of Crown's Chaya (fawn).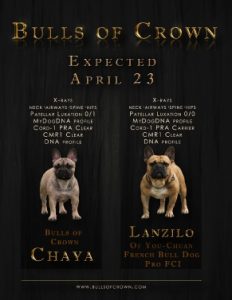 Wij zijn er van overtuigd met hem een prachtige aanwinst voor onze roedel binnen te hebben gehaald. Zodra hij de leeftijd van 14 maanden bereikt zullen we hem uitgebreid laten testen.