Our vision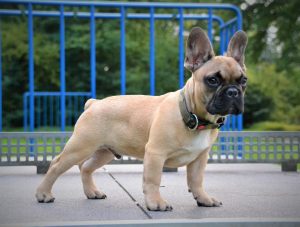 Our vision is to breed a nice healthy French Bulldog. In which we look closer to the construction of the dog and the airways. We like to see dogs with a larger and flexible back and a less shorter nose.
In our ideal picture, the tail comes at least across the anus. We also attach value to good airways. A French Bulldog likes to play and run and needs to be able to do this for a while, without any problems.
It isn't our goal to completely change te appearance of the French Bulldog. but to optimize it and promote health.
Our targets:
– A nose a little longer en nice open nostrils
– Nice airways to undergo warmer weather and jogging/running without problems.
– a tail at least across the anus, not much longer
– a flexible spine/spinal column with a pleasant length which must also promote natural birth.
– and of course a sweet and soft character
– and with a very good social behaviour
Our Frenchies will be x-rayed en checked by dna for over more then 200 hereditary defects. They can also be found on ' MyDogDNA' .