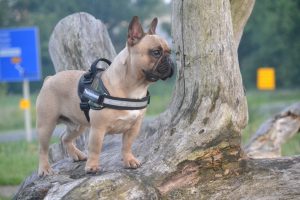 NHSB number: 3107365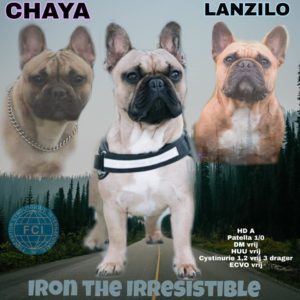 father: Lanzilo of You-Chuan French Bulldog Pro FCI
Mother: Bulls of Crown Chaya
Date of birth: April 22 2017
Weight: 13,7 kilo
height:
color: fawn
Both parents of Iron have been extensively tested for their health. Among other things x-rays of the vertebrae and measurements of the trachea. That is why we decided to take a puppy from  'Bulls of Crown'. (www.bullsofcrown.nl)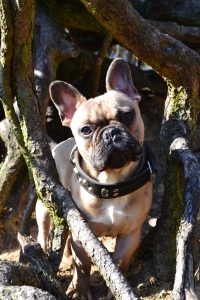 I like to see a healthy dog that can go well with everyday life and preferably that they can run also a bit. We assume that Iron is a step in the right direction and the first DNA results confirm it! In August of 2018 he will be tested by x-rays.
iron also has been tested as a therapydog and like Bailey he also succeeded!
Testresults Iron
results DNA test
Degeneratieve Myelopathie VRIJ
MyDogDNA profiel
CORD1 PRA (CRD 4) VRIJ
CMR1 VRIJ
HUU VRIJ
Cystinuria IA IIA IIB VRIJ
Maligne Hyperthermie VRIJ
besides, he is also declared free of 191 other hereditary defects. This results can also be found in his MyDogDNA profile.
HD: HD A 
patella luxation according to muestege protocol   left 1, right free
backspines: 3 hemivertibrae
ECVO eye examination: declared free of any deviation
Protocol French Bulldog: follows